Mail2Web.com is a commercial web site that offers private email access to your messages that are still in your inbox on our servers. (Mail2Web is unrelated to SherwoodHosting—we just like their simple interface that works when other techniques do not work due to client-side connectivity or computer problems.) I have personally used it for many years to access my personal email account from within a firewall environment— it is safe and reliable (there are also secure options if you're dealing with confidential information).
The tricky step is the first one, and it's actually quite simple:
Enter your email address and (email) password.
When you enter your password, be sure your CAPS LOCK is not enabled since passwords are case-sensitive.
You are then presented with the contents of you inbox (if there are any mail messages pending).
You can leave the messages on the server (for later deletion or transfer to your home computer mail reader), or delete them (for instance, get rid immediately of SPAM email).
Mail2Web times out after about 10 minutes of inactivity, and you have to re-login again. You might find it useful to use the browser's BACK button to get back to your login page (above) and typically your browser will present you with the information you last entered, thus you don't have to re-type it, and you can just click on the Check Mail button.
In addition, during periods of high traffic, Mail2Web can spuriously give an error message or say your login is invalid even after you have successfully been reading your messages. In this case, we've found that do a RELOAD/REFRESH will continue with no errors, and in some rare cases, we had to start over at the Mail2Web login page.
If you have trouble initially logging in, there's an ADVANCED LOGIN option as described below.
Choose Advanced Login option (to the right of the Check Mail button on the Mail2Web home page-see example above), and fill in the fields as shown below: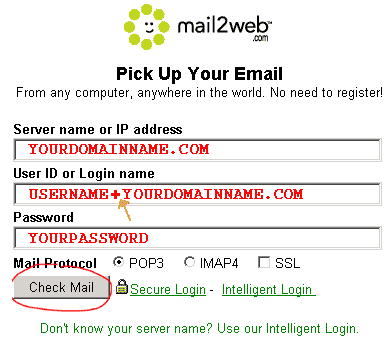 The plus sign (+) in your USER ID field is important. Yes, you need to enter your domain name twice, as shown.